Watashi, Nouryoku wa Heikinchi de tte Itta yo ne!
(Didn't I Say to Make My Abilities Average in the Next Life?!)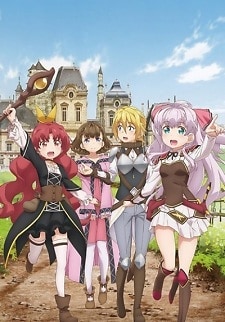 Bölüm Sayısı: ?
Bölüm Süresi: 23 Dakika
Tür: Fantastik, Komedi
Yaş Sınırı: 13+
Yayın Tarihi: 07 Ekim 2019
Konu:
Ascham ailesinin en büyük kızı Adele on yaşına girdiğinde, güçlü bir baş ağrısı geçirip, geçmiş yaşamındaki her şeyi hatırladı. Daha önceki hayatında Kurihara Misato'ydu ve 18 yaşındayken küçük bir kıza yardım etmeye çalışırken öldü. Ardından Tanrı ile karşılaştı. Görüşme sırasında, Kurihara Misato ortalama becerilere sahip ortalama bir yaşam sürmek istedi. Sonuçta, biraz yetenekli benliği, kendisine getirilen tüm beklentilerle yüklendi. Ancak, istediği ortalama yaşamını sürdürmek istiyorsa, yanlışlıkla S seviyeye çıkmamaya özen göstermesi gerektiğinden, işler planlandığı gibi gitmez. Ardından yaşanacak olayları ve maceraları izlemek için gitmen gereken adres turkishanime.com
Bu animeyi birçok farklı kaynaktan istediğin kalitede izleyebilir veya istersen anime bölümünü tek tıkla indirebilirsin.
Destek olmak için Youtube kanalımıza abone olabilir veya bu bölüm hakkında ki düşüncelerini yorum olarak yazarak bizimle ve diğer anime sever dostlarımıza paylaşabilirsin.
Watashi, Nouryoku wa Heikinchi de tte Itta yo ne! 1. bölüm türkçe altyazılı izle, türkçe anime izle, Watashi, Nouryoku wa Heikinchi de tte Itta yo ne! 1. Bölüm 1080p izle, Watashi, Nouryoku wa Heikinchi de tte Itta yo ne! 1. Bölüm türkçe,  turkanime tv, türkçe anime indir, anime indirme sitesi, ecchi anime, komedi, fantastik, romantizm, aksiyon, okul, Watashi, Nouryoku wa Heikinchi de tte Itta yo ne! 1. bölüm türkanime izle, turkish anime