Darling in the FranXX 3. bölüm türkçe altyazılı izle, Darling in the FranXX türkanime, türkçe anime izle, turkanime tv, türkçe anime indir, anime indirme sitesi, ecchi anime, komedi, fantastik, romantizm, aksiyon, okul, Darling in the FranXX 3. bölüm türkanime izle, turkish anime, zero two hiro,
BİLGİ
Turkish Anime kaynağını kullanarak bölümleri indirebilrisiniz.
Darling in the FranXX 3. Bölüm | Türkçe Anime İzle
Turkish Anime 360p
Turkish Anime 480p
Turkish Anime 720p
Google Drive
Sibnet
Mail.ru
Myvi
DİKKAT !
Yayınladığımız animeler bölüm içinde belirtilen grup veya çevirmen tarafından çevrilmiştir. Sitemiz animeleri online izlenme ve indirme amaçlı olarak sizlerle paylaşmaktadır. Çevirmenlere desteğinizi ve teşekkürlerinizi sunmayı unutmayın.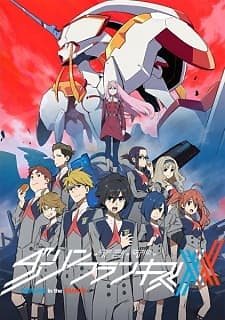 Bölüm Sayısı: 24
Bölüm Süresi: 24 Dakika
Tür: Mecha, Aksiyon, Romantizm, Bilim Kurgu, Dram
Yaş Sınırı: 13+
Yayın Tarihi: 13 Ocak 2018
Konu:
Uzak bir gelecekte dünya mahvolmuş, insanlık hareketli kale şehir Plantation'u kurmuştur. Plantation'da Pilot olmak üzere yaratılmış çocuklar aynı zamanda kuş kafesi olarak bilinen Mistillteinn'da yaşamaktadırlar. Burada gökyüzündeki özgürlük ya da dış dünya hakkında hiçbir şey bilmeden hayatlarını sürdüren ve Franxx adı verilen robotların pilotluğunu yapan çocukların tek görevi Kyouryuu adı verilen devasa yaşam formlarıyla savaşmaktır. Bu çocuklar için Franxx'ler hayatlarının anlamıdır. Bir zamanlar dahi olarak bilinen Code:016 kod isimli Hiro, görevini yerine getiremeyip başarısız olduğunda varlığı anlamını yitirmiştir. Günün birinde Zero Two ismiyle kendini tanıtan ve başının iki yanında boynuzları bulunan gizemli bir kızla tanışır. Ardından yaşanacak olayları ve maceraları izlemek için gitmen gereken adres turkishanime.com
Bu animeyi birçok farklı kaynaktan istediğin kalitede izleyebilir veya istersen anime bölümünü tek tıkla indirebilirsin.
Destek olmak için Youtube kanalımıza abone olabilir veya bu bölüm hakkında ki düşüncelerini yorum olarak yazarak bizimle ve diğer anime sever dostlarımıza paylaşabilirsin.
Yorum Yaparken Dikkat !
1) Başka sitelerin reklamını yapmak yasaktır. 2) Spam yapmak yasaktır. 3) Küfür, hakaret ve rahatsızlık verecek (sansürlü veya küfür kısaltması da dahil) yorumlar yapmak yasaktır.