Boku no Hero Academia the Movie: Futari no Hero türkçe altyazılı izle, Boku no Hero Academia Futari no Hero türkanime, türkçe anime izle, turkanime tv, türkçe anime indir, anime indirme sitesi, ecchi anime, komedi, fantastik, romantizm, aksiyon, okul, Boku no Hero Academia the Movie: Futari no Hero türkanime izle, turkish anime, boku no hero academia filmi izle
Dikkat !!!
Bu Film 3. Sezondan Sonra İzlenmelidir.
Boku no Hero Academia: Futari no Hero | Türkçe Anime Filmi İlze
Turkish Anime
Google Drive 360p
Google Drive HD
Ok.ru
Mail.ru
Fembed
Namba
DİKKAT !
Yayınladığımız animeler bölüm içinde belirtilen grup veya çevirmen tarafından çevrilmiştir. Sitemiz animeleri online izlenme ve indirme amaçlı olarak sizlerle paylaşmaktadır. Çevirmenlere desteğinizi ve teşekkürlerinizi sunmayı unutmayın.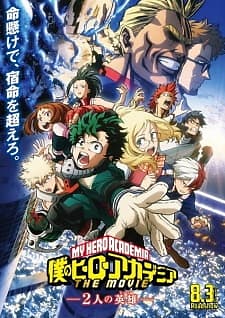 Bölüm Sayısı: 1
Bölüm Süresi: 1 Saat 36 Dakika
Tür: Aksiyon, Okul, Shounen, Süper Güçler, Komedi
Yaş Sınırı: 13+
Konu:
Boku no Hero Academia serisinin 3. sezonu sonrasında çıkan Filmidir.
İlk dönem biter ve U.A. yaz eğitim kapına hazırlanır. Midoriya ve All Might, denizaşırı, hareketli, dev yapay yer olan I Adası'na davet edilirler. Dünyanın dört bir yanından gelen bilim insanlarının bilgilerini toplayan "Bilim Hollywood"u olan bu ada, Özgünlük ve kahraman araştırmasının sonuçlarını sergilemek üzere I-Expo denilen bir sergi düzenler. Tam bu arada, Midoriya, ona Özgünlüksüz geçmişini hatırlatan, Özgünlüksüz bir kız olan Melissa ile tanışır. Birden bire, bu adanın dayanıklı güvenlik sistemi kötü adamlar tarafından ele geçirilir ve adadaki tüm insanlar rehin alınır! Kahraman toplumunu sarsacak plan harekete geçirilir! Anahtarı elinde tutan adam ise Barış Sembolü ve bir numaralı kahraman All Might'tır. Ardından yaşanacak olayları ve maceraları izlemek için gitmen gereken adres turkishanime.com
Bu animeyi birçok farklı kaynaktan istediğin kalitede izleyebilir veya istersen anime bölümünü tek tıkla indirebilirsin.
Destek olmak için Youtube kanalımıza abone olabilir veya bu bölüm hakkında ki düşüncelerini yorum olarak yazarak bizimle ve diğer anime sever dostlarımıza paylaşabilirsin.
Yorum Yaparken Dikkat !
1) Başka sitelerin reklamını yapmak yasaktır. 2) Spam yapmak yasaktır. 3) Küfür, hakaret ve rahatsızlık verecek (sansürlü veya küfür kısaltması da dahil) yorumlar yapmak yasaktır.